ARMS REDUCTION COALITION
ARC Update -April 06
Dear ARC Supporter,
We hope you are well. This months update includes a news item about a UN initiative enabling Liberians to 'Turn swords into ploughshares', an update on the work of the UN High-Level Steering Group on the Relationship between Disarmament and Development, a Poem by Seguya Pius coordinator of ARC members, Ugandan Youth Peace Council, a report on ARCs 'Towards the peaceful use of national resources in the 21st century' public meeting last February at the Hse of Lords, and details of ARC's next public meetings.
If you would not like to receive these updates please return this e-mail to ngo@arcwebsite.org or info@arcwebsite.org stating so.
In Peace,
Fidel Asante - ARC
_________
Former fighters have been "trained to fight a new war - the war on poverty," says UN Secretary-General as new Liberian initiative, seeks to turn swords into ploughshares

Updating the biblical injunction to "turn swords into ploughshares," the United Nations mission in Liberia is training former combatants as blacksmiths as part of its reintegration and rehabilitation programme to help the West African country recover from almost 15 years of vicious civil war.

The former fighters have been "trained to fight a new war - the war on poverty," Secretary-General Kofi Annan's Special Representative Alan Doss said in awarding certificates yesterday to 30 men and women who had completed the three-month course, calling the new blacksmiths "foot soldiers in this war."

The tools made by the blacksmiths will help small farmers increase production, contributing to the larger process of getting Liberia's agricultural sector back on its feet. "Agriculture must be at the forefront of Liberia's economic recovery," Mr. Doss said at the ceremony in the town of Tubmanburg.

Blacksmithing is "an ancient and honourable trade" and will provide the new graduates with the ability "to turn swords into ploughshares" in today's Liberia, he added.

The training was organized and financed by the UN Development Programme (UNDP) and UN Food and Agriculture Organization (FAO), and supported by the UN World Food Programme (WFP) and Liberia's Ministry of Agriculture.

The new blacksmiths have been trained to take scrap metal and turn it into farm and agriculture implements such as hoes, rakes, shovels, axes, cutlasses as well as poultry feeders and buckets.

Source: UN News Service http://www.un.org/news
_________
CORRECTION
It came to our attention that a request we sent out on 23rd February 2006, titled "ARC - EDM 1658 Alert" regarding an EDM Linda Riordan had tabled on 15th February 2006, as well as containing dubious grammar, had stated that "149 MPs have already signed it". This was wrong. In fact, it was true at the time that 149 MPs supported the legal right of conscientious objectors not to pay for war, since the last election it is now nearer 70 - see: http://www.conscienceonline.org.uk/Pages/_subSections/supportPages/whoSupportsUs.html.
The actual number of MPs who have signed EDM 1658 is around 23. This mistake was wholly unintentional and was a result of hasty and inexact research. We apologise if any of you contacted your MP, requesting them to sign the EDM with the claim '149 MPs cant be wrong!'. If so we, as well as being similarly embarrassed, applaud your efforts and will work with you towards building a critical mass of MPs who can bring the bill through and change, if only a little, the present UK tax redistribution landscape.
Fidel Asante
_________
UN High-Level steering group takes note of "The pivotal role that security plays in defining the relationship between disarmament and development" 1
UN Secretary-General Kofi Annans July 2005 (which is mysterious as it was unknown to ARC until November last year, this may have been because it was 'distributed' 2 days before the London Bombings which blotted out many UN news items) report on the Relationship between Disarmament and Development (RDD), UN Document A/60/94, is based on the ramifications of General Assembly Resolution, 59/78 and also the recommendations of the 2004 report of the Group of Governmental Experts on the Relationship between Disarmament and Development (GGERDD) UN Document A/59/119.
His report mainly details the work that UN agencies, through the coordination of the High-Level Steering Group on Disarmament and Development (HLSG), have done to implement the recommendations submitted by the 2004 (GGERDD), Report amongst its own agencies, civil society and NGOs. The HLSG was set up in 1999 by Kofi Annan as an "interdepartmental task-force to foster and coordinate the incorporation of a disarmament-development perspective in the activities of the United Nations system"2 use ref, it is composed of the Under Secretary-Generals for the Disarmament Affairs, Economic and Social affairs and Peacekeeping Operations agencies as well as the Administrator for the United Nations Development Programme.3
Of the 2004 GGERDD report the HLSG took note of:
* The role security plays in defining RDD.
* The increased need of development assistance for poorer countries.
* The threat posed by illicit arms.
* The valuable role of Disarmament, Demobilisation and Reintegration in peace-building, peace-keeping and post-conflict circumstances.
* The need for preventing conflict to avoid the costs of war.
* Increasing awareness of the role of terrorism in preventing development.
* The importance of exercising restraint in military spending as a vehicle for making more resources available for development.
* The role of civil society as partners with govt on RDD
If the concept and the implications of RDD are to be put in practise the work of the HLSG must be both more efficiently resourced and more widely publicised. The report recognises this while also recognising that partner UN agencies must be aware of the various activities of the HLSG so as to harmonise efforts and not duplicate work already being done.
Inter-agency Initiatives
Disarmament and Peacekeeping Agencies
The Secretary-Generals Report noted work done by Department for Disarmament Affairs, (DDA) in March 2004 through organising a Symposium on the Relationship between Disarmament and Development where various experts were invited by the GGERDD to make presentations on the Disarmament and Development relationship in New York.
Dept of Peacekeeping operations organised an inter UN agency programme involving 13 UN agencies, departments and funds, 4.with the aim of jointly developing guidelines and policies for integrated Disarmament, Demobilisation and Reintegration (DDR), standards. The report defined the standards as fostering a "Comprehensive and holistic approach in order to better integrate the disarmament, demobilisation and reintegration dimensions in the programmes, with special attention to the specific needs of women, children and the receiving communities of former combatants", 5. amongst the respective agencies programmes.
DDR projects were integrated into UN peacekeeping missions in Haiti (MINUSTA) and Sudan, whilst discussions are ongoing as how to further structures and institutional frameworks for DDR operations amongst peacekeeping missions involving inter UN agency cooperation with UN agencies programmes and funds.
An Online interactive database and networking tool called the 'Peace building Portal' focused and based in sub-Saharan Africa has been launched. Discussions are currently underway between the Department for Economic and Social Affairs and DDA to expand the 'Peace building Portal' to other continents.
UN Development agencies
Since 1998 the United Nations Development Programme, (UNDP) has been analysing the small arms problem as a way of making progress on RDD, as it has been found that after conflict those who still possess small arms are those who usually suffer from the least 'human security'.
Through 'weapons for development' programmes, UNDP continues to promote development activities in exchange for weapons voluntarily surrendered by groups.
UNDP activities have also influenced government legislation on reform of approaches to possession and the use of firearms, and government response to the proliferation of small arms. The agency is currently working on arms reduction and control in Kosovo, El Salvador, Sierra Leone, as well as other conflict zones, (past and present) in the world.
UNDP continues to focus on working with sectors such as education, culture, sports and employment creation, seeking to bridge the views of those who support 'hard law' enforcement and those who advocate tackling the social and developmental aspects of crime and violence.
In Lima, Peru, from 27-29 September, 2004 The UN regional centre for Disarmament, Peace and Development in Latin America and the Caribbean, in concert with UNDP, held a Disarmament and Development (DD) workshop as an international effort to raise awareness of the link between DD.
The event included staff from 24 UN offices in the region and personnel from numerous partner organisations working on Disarmament, Security and Development.
The agreed objective was to consider the implications of the 2004 GGREDD report, and consider how UNDP could build on the reports recommendations in tandem with other organisations through joint activities in the region.
Ways were explored whereby UNDP and other agencies could strengthen the link between Disarmament and design governance norms building on development principles such as small arms and light weapons control, security sector reform and transparency and accountability of military expenditures
In Haiti and Sudan UNDP has facilitated the DDR efforts of other UN agencies such as United Nations Childrens Fund and the Department of Peacekeeping Operations. This is viewed as enabling a common UN approach to "disarmament, demobilisation, and reintegration within "integrated" peace support operations."6.
In countries where there is no direct UN peace mission the role of UNDP is more of a bureaucratic and administrative one, particularly in the area of disarmament, coordinating the development and peace establishing efforts of local agencies. This is happening in Central African Republic, the Congo, Somalia and the Solomon Islands.
At the 7th session for the Committee for Development Policy, 14-18march 05. a report was made claiming the links between poverty and conflict are 'highly complex and multi-dimensional'. The committee noted that it was important that the media does not obstruct the reintegration of people (soldiers) into society, through the propagation of 'enemy' stereotypes, and to that end the media should be legally prohibited from generating hatred and misunderstanding amongst the people.7
The committee also suggested that the UN setup a unit specifically to identify countries at risk of conflict to best enable conflict-prevention methods to succeed. In this regard the committee went as far as to suggest that a post-conflict reconstruction instrument could also be created as a brisk-response / instrument for donor coordination. I would say that if, this was not indirect support for proposals for the now official peace building commission, it is a theme that military spending
Campaigners such as ARC supporters should return to as a possible campaigning theme, as where better to draw funds for post-conflict reconstruction than an International Disarmament Fund for Development made up from military spending reductions!
UN Social and Economic agency activities
On 15th November 2004, the UN Department for Economic and Social Task Force on Conflict Prevention, Peace building and Development, held an expert group meeting at UN New York headquarters, involving academics, practitioners and stakeholders.
The aim of meeting was to discuss how departments overall aims could be more fully integrated into that of UN initiatives towards peace building and development.
The meeting identified six challenges:
1. Careful analysis was required to argue or illuminate the links between underdevelopment and the eruption of violent conflict.
2. Recognising the growing role of the business sector in conflict issues, conflict prevention, which was essential, as to be successful, such approaches required the involvement of all concerned actors, businesses and otherwise.
3. A regional approach to conflict prevention and peace building is essential, and global policies for development will be needed to integrate national economies emerging from conflict, into the global economy.
4. Systemic causes of conflict need to be addressed in a comprehensive manner.
5. Conflict prevention and peace-building operational practises need to embrace the aspects developed in the conceptual side of the field.
6. More effective involvement between UN agencies and UN affiliated actors requires more flexible means engagement than the more rigid structures in place at present.
UN Economic and Social Council (ECOSOC) in partnership with the University of Ghana and an Italian Conflict Management programme held Training courses on Peace building and Good Governance for African peace support personnel. Workshops included training on DDR, election observation, as well as specialised courses for correction officers and train-the-trainer workshops involving 200 African civil personnel from 29 African countries. The workshops are being replicated in Ghana, Kenya, Liberia, Nigeria, Rwanda, Sierra Leone, Uganda, Zambia and Zimbabwe.
Although we welcome the reinvigoration of the HLSG we cannot but lament at the lack of publicity this initiative has had. One can find solace in the fact that with the unmaterialised 'peace dividend' the UN through the HLSG is beginning to actively highlight RDD. Inter-agency projects linking Disarmament and Development, in any part of the world, must be informed by civil society and those on the ground if they are to take root and make at least a cultural impression on war-weary communities.
In the wealthy arms-exporting countries the ramifications of the Secretary-Generals report needs to be spoon fed to elected representatives if its conclusions are to bear any real fruit. Indeed, ARC is ready to play its part, for where the people lead, inevitably the government must follow.
Fidel Asante
1. page 2 Secretary-Generals 2005 Report, doc: A/60/94
2. page 21, A/59/119
3. page 21, A/59/119
4. page 21, A/59/119
5. page4, A/60/94
6. page7, A/60/94
7.What a difference such legislation could have made in the US media regarding Saddam Hussein's WMD and involvement in 9/11!
_________
Below is an insightful poem by Seguya Pius Co-ordinater of Coalition members, Ugandan Youth Peace Council (UYPC)
YOU GET WHAT YOU GIVE
In trying to deny others freedom,
Man has denied himself freedom.
In trying to enslave others,
Man has enslaved himself.

In trying to segregate against a brother,
He has segregated against himself.
In trying to hate others,
He has hated himself.
In trying to fight others,
He has fought himself

And trying to judge others
Got him judging himself.
In trying to kill others,
He couldn't fail to kill himself.

For out in the would you'll find;
You can't fail to give yourself what you give others,
Nor deny others what you give yourself.

In loving another, man has only loved himself
In forgiving another,
He has only forgiven himself.
In caring for another,
He has cared for himself.
In teaching another,
He has taught himself
In helping others,
He has helped himself.

And has given himself,
When he meant giving others.
You see; you can't afford to treat others
To what you don't treat yourself.
Seguya Pius 2006
_________
Update on ARC Public Meeting on the peaceful use of national resources in the 21st century.
On Monday 27th February, 2006 6-8.00pm, at the House of Lords, Committee Room 4. ARC held a public meeting, titled 'Towards the peaceful use of national resources in the 21st Century How can we achieve this? And what is the role of campaign groups and civil society?" looking at what steps can be taken to ensure that the UK's, along with other nations, resources could be used peacefully and non-belligerently. We explored the role of campaign groups and civil society in establishing such norms.
Speakers invited were Prof. J Paul Dunne of Economists for Peace and Security UK, Vijay Mehta of ARC, Diana Basterfield of Ministry for Peace, Dr Stuart Parkinson of Scientists for Global Responsibility and Sir Richard Jolly of the Institute of Development Studies.
ARC Patron Lord Peter Archer of Sandwell, chaired the meeting, which started on time and attended by a crowd of around 40-50 people. Dr Stuart Parkinson, Director of Scientists for Global Responsibility, started the discussion with a talk titled, "The role of science and technology in building peace". Stuart initially stressed that there were many factors that had to be taken into account when looking at the causes of insecurity, not least, environmental, ethnic and developmental. He made clear the problems, when he stated that science had a role in solving these problems, but equally in fomenting, if not creating them. He outlined the role for science in this regard as being:
* Sustainable agriculture methods
* Renewable & efficient energy technologies
* R&D on neglected diseases
* Non-violent conflict resolution techniques
* Monitoring for disarmament treaties
Indeed these, he maintained, were fields where the expertise of science and technology were indispensable. In looking at the prevailing funding priorities of governments and industry, as they determine the areas of science and technology to be researched and developed, there is much for UK civil society to change.
Stuart highlighted this when he recalled that the "UK is second largest government funder of military R&D in world - £2.6 bn in 2004 (nearly one-third of total UK government R&D)." and worldwide "Only 10% of the funds for global health R&D is spent on tackling diseases which cause 90% of world's ill-heath Industrialised countries' governments spent $85 bn on military R&D in 2004 compared with $50 bn on health and environmental R&D combined." 1.
Focussing on the positive indications within the field of science and technology, Stuart rolled out some encouraging statistics in the field stating quoting DTI stats: Environmental technology industry now employs more people than military industry (245,000); In 2002 - environmental technology industries were worth £16 billion and employed around 170,000 people; In 2004 - they were worth £25 billion and employ around 400,000 people. 2.
Globally, renewable energy generates as much electricity as nuclear energy; Renewables and nuclear each generate approx 20% of global electricity. Some renewables expanding rapidly, e.g. solar PV capacity by 60%/y, wind capacity by 28%/y 3.(REN21, 2005), Essex University study shows organic farming successes in developing countries; Essex university study just published (Jules Pretty et al, 2006) examined projects in 57 poor countries showed techniques such as crop rotation and organic farming increased crop yields by an average of 79%, and topping it off he confirmed that the UK has world's largest peace studies centre
Vijay Mehta of ARC spoke next. A synopsis of his speech, "Changing priorities and mindset of our world turned upside down". can be found at www.vmpeace.org.
Diana Basterfield Co-founder of the Ministry for Peace took the platform next with her talk; "Violence and the war in Iraq cost society dear-What a Ministry for Peace could do". Diana introduced the concept of a Ministry for Peace, and spoke about its beginnings 4. and its aims. She detailed how the concept of a Ministry for Peace, far from being a simple play on the Orwellian '1984' theme was a realistic goal which humanity not least, world governments, must seriously consider if we were to see the aims of peace world realized, whilst also receiving that institutional support so necessary to avoid, this century, the ravages of the wars waged in the previous century.
Diana pointed out that that the Labour government of ex UK Prime Minister, Harold Wilson's, employed a Minister for Disarmament, albeit a Minister with little portfolio or departmental 'teeth'. She asserted that however small the intention was there.
It was outlined to the audience that peaceful resolution of conflicts as well as peaceful revolutions were in many cases more common than violent resolution of conflicts. To stress this fact she referred to 'Violence against violence fails'5. and Nonkilling Global Political Science, 6. books which she claimed were replete with examples and outlines for the peaceful resolution of conflicts, and lamented the fact that the methodology for peaceful resolution of conflicts was not more widely known. She made the apposite point that the way we look at resolving conflicts in general, whether in everyday life between familiars or between mutually hostile nations, is generally informed by the 'eye for an eye, tooth for a tooth' modus operandi, which, as she quite rightly repeated, according to Gandhi "would leave us all blind!" She commended the government for instituting the Global Conflict Prevention Pool, but quoting a government review of the mechanism by Prof Austin and Malcolm Chambers of Bradford Peace Studies 7.
Diana lamented that there were not enough government figures sufficiently trained in the methods of conflict-prevention. Diana concluded by inviting the audience and speakers to join the Ministry for Peace in working to create a groundswell of civil society support for a non-violent resolution of the festering nuclear standoff with Iran.
The next speaker J. Paul Dunne UK-Co-ordinater of Economists for Peace and Security-UK. Paul, using a PowerPoint throughout, started his talk, "Economics and Disarmament", by stating that military spending, in terms of its knock on effects is an issue with 'more influence than the resources it takes up', particularly when analysing what determines military expenditure, as well as the relatively recent emergence of a changed international security environment, where the 'peace dividend', looked forward to after the Cold War, had not materialised and reductions in military spending have "bottomed out".
He cautioned that arms reduction and redistribution of military spending arguments were not cut and dry simply the obvious 'moral thing' to do as "general trends always hid more complex patterns" and that some nations military budgets increased because of local insecurity, whilst some were due to encouragement for arms exports. It was important, he said, to campaign for reductions in spending bearing in mind that long winded economic arguments would always be used to justify fiscal 'security' outlays, and that calls for reduction in military spending, in order to avoid falling into passive inertia amidst rises in military spending, needed to be qualified by targeted and specific campaigning for reinvestment of the reductions in other areas. He claimed disarmament is political as well as economic. And it is important to bear in mind particularly when looking at African countries circumstances.
He outlined further challenges for any civil movement for arms reduction as emerging from the fact that there are a number of Military Spending and the Economy theories to look at including:
* Neoclassical: guns v butter, bread not bombs.
* Keynesian: Military expenditure is just one component of government spending; it may cater to an effective demand, and may have a positive economic effect
* Institutionalist: Predicated on existence of MIC; internal pressures for increases independent of any threat; creates inefficiencies in economy; may have a negative economic effect.
* Marxist: Marx little to say: Overall unclear what effect would be.
* Monopoly Capital: Baran and Sweezy. Only one with definitive positive effect
Some theories claim that military expenditure can be a contributor of national economic growth, so in order to grasp the why and wherefore of continued disproportionate military spending one needs to employ complex understanding. As there are Historical processes, which may give forth specific reasons; Some cases may prove Contingent upon a nations circumstances, and some may even be contradictory, in that they imply an undue outlay of national expenditure.
Paul stated that understanding the rational for military expenditure can only be arrived at through an historical analysis of a nation and the overall changing nature of the military economy.
Studies such as that by Benoit in early 1970's claimed to show that military spending could contribute to economic growth, as he gave examples of effects where poor countries had invested in military to positive growth.
Paul hit the nail on the head when he said in gathering tools for the reduction campaigners' arsenal our arguments have to be presented as an economic opportunity rather than a problem. We need to rally political will and remember that Individual country problems need international support for disarmament consistently educating the public around the facts of:
Demobilisation and retrenchment can cause problems

Role of army can vary

Still large numbers of conflicts: changing nature of conflicts (civilians)

Development aid
Lobbying governments about recognising the problems of post conflict reconstructions; the role economic factors play in conflict; importance economic and human security; of planning and transparency.
The next speaker was Sir Richard Jolly, Ex-Coordinator of the United Nations Development Programme Human Development Reports, and now Honorary Professorial Fellow at the Institute of Development Studies. Richard started his talk, "Human Security – A frame for rethinking Arms Reduction". stating that since the early discussions on reducing military expenditure for development, analysts, researchers and campaigners on the theme had centred around the less intimidating paradigm of 'Human Security', focusing on the security of people and not simply that of states. He espoused Human Security as the great hope of those who are campaigning for the reduction of the great sums of money fuelling the arms trade. He then asked us to take comfort from the fact that, and lend our moral support to, one of the leading international proponents for the financing of development through military spending reductions, Ex Costa Rica President – Oscar Arias, who was again running for the post of Costa Rican President, at which the audience gave a short applause, (editors note: Oscar Arias has recently been elected for the second time, Costa Rican President, and is due to take office on May 8 2006).
Richard continued that Human Security, (particularly over the last 10 years), challenged the old and rusty conception of security as simply the military defence of a nation or countries borders. He lamented that little progress in arms reduction can be made so long as the US continues to make up half of the worlds military spending.
He went on that the nature of insecurity has changed. No longer is most insecurity the traditional insecurity of threats across national borders created by an identifiable enemy state.
Today's threats are increasingly threats to people which arise from many causes having a common impact — making peoples lives less secure and more vulnerable.
The repercussions of terrorist attacks and of war and conflict in Iraq and Afghanistan, he said, have been felt in every corner of the world. In one way or another, these events have left the whole world feeling more insecure.
Paralleling these events the rise in military spending and war in Iraq had focussed attention on military, at the expense of non-military solutions to insecurity.
The most significant factor in setting human security as the frame, as he sees it, and in this regard Richard echoed comments of Paul Dunne, is to present a full range of choices in deciding how to allocate resources.
A frame of human security could make such choices explicit. Each country needed to explore the balance of expenditures to prevent or control the leading threats to its security, short-run or long-run, across the core of various causes of human insecurity. He contended that If we can focus on the initial causes of human insecurity, a broader range of concerns and measures are brought into the analysis. Figures for most countries, he noted, reveal a gross imbalance in spending for security, over-spending on military actions, under-spending on other measures for prevention and control of threats to human security.
Dialogue and discussion, he felt, were indispensable when managing differences with dissident and marginalised groups. The methods of engaging nationalist leaders following the end of colonialism may still prove of value when seeking to end divisions in the world today.
Richard summarised his talk by referring to the end of the Cold War and the much hoped for 'peace dividend', by saying, over the 8 to 10 years which followed, major reductions in military spending took place in both developed and developing countries.
Such facts, he declared, must shape the vision of hope for the future which needs to empower those who now call for human security.
Fidel Asante
1. Ref Global Forum for Health Research (2004).
2. (as quoted in DEFRA climate consultation paper, 2004)
3. REN21, 2005
4. The MP's who introduced and sponsored the Ten Minute Rule Bill introducing a 'Ministry for Peace' were: John McDonnell - Lab (Promoter), Elfyn Llwyd - Plaid Cymru, Alex Salmond – SNP, John Randall – Con, Rudi Vis – Lab, Alan Simpson – Lab, Jeremy Corbyn - Lab.
5. Author: Paige, Glenn D. Nonkilling Global Political Science, Xlibris: Philadelphia, 2002, 239 pp., ISBN# Hardcover 0-7388-5744-0, Paperback 0 -7388-5745-9.
6. Paige, Glenn D. Nonkilling Global Political Science, Xlibris: Philadelphia, 2000, 239 pp. ISBN# Hardcover 0-7388-5744-0, Paperback 0 -7388-5745-9.
7. Evaluation of the Conflict Prevention Pools: Synthesis Report (with Greg Austin, Emery Brusset and Juliet Pierce), Cabinet Office / DFID / FCO / MoD / HMT, Evaluation Report, March 2004.
_________
Working with ARC
ARC are at present looking to expand its campaign through; initiating a process of multi-group discussions and meetings around the theme of military spending and the use of economic and human resources for development ends in the immediate future; building a coalition of many individuals and groups from around the world and gathering signatures calling for the UN Member states to agree a treaty establishing the implementation of the principles contained in UN Charter Article 26.
To do this we need more volunteers. We are looking for energetic and enthusiastic people who have an interest in Peace and Security, the Environment, Science and Technology and National and International Crime issues. If you are interested in volunteering we would like to hear from you. Contact ARC Fidel at: ngo@arcwebsite.org, tel: 0208 502 7673/ 07899953977.
_________
Below is the editorial and extracts from the first ever 'The Peace mania', Newsletter of Uganda's NPI (Network for PeaceBuilding Initiatives), created by NPI coordinator Jessy Winterbonn who will be coming to London in June and talking at ARCs public meeting on the 'Role for Peace Education in today's world'. (see events section)
EDITORIAL
Various Schools have been victim to violent crime ranging from strikes, bullying and most recently an increase in cases of schools being burnt along with school property. Teaching staff, fellow students and parents live in constant fear of these increasing incidences of violence and their consequences. In communities where these students live, are characterized by all forms of violent conflicts. Programmes to promote peaceful resolution of conflicts are not in place with efforts to introduce
peace education still undergoing crucial metamorphosis. School admission systems, electronic and print media and available literature do not promote social interaction and coexistence. Uganda being multi ethnic with different groups holding negative perceptions about each other, which are learnt from generation to generation, are exacerbated by increasing incidences of violence both within and out of schools affecting the youth. The Peace mania newsletter serves to involve the youth. Serving as a forum for sharing and exchange in which the youth will share their experiences, ideas and views on various conflicts and how best to avoid and or resolve their differences in a more peaceful. It will further link the north, to the rest of the regions of the country, working towards rehabilitation and reconstruction.
Network for Peace Building Initiatives in association with A Ray of Hope, UNESCO Youth Ambassador for a Culture of Peace, Teso Initiative for Peace (TIP), organised an essay NPI and A Ray of Hope' spearhead Uganda Schools essay-writing competition, and writing competition.
The theme for the art competition was, "Lets create a better world" with the message, 'may tolerance prevail',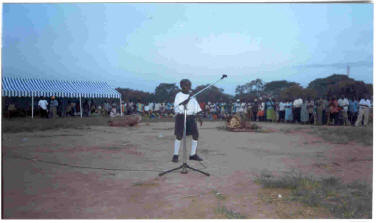 while the essay writing competition was, "Non violence in the community" Light Secondary School won the art competition with Egonu Andrew Tom emerging winner in the upper category while the lower category was won by Pamba primary School with Labu Godfrey having the winning art piece. Each winning school was awarded a trophy in each category with the winning participants pocketing medals and a ream of paper each for those in the lower category. In addition, a Certificate of Excellence was awarded to each of the winners with all participants awarded Certificates of Participation.
OPINION
Peace clubs could be instrumental in promoting peace education in Uganda following the trends and club culture in the country.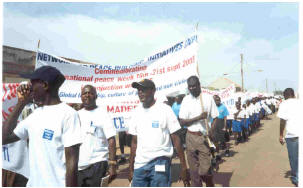 If education for peace has to involve both extracurricular as well as across the curriculum, the former could well be done using peace clubs. This was well shown by active participation of both teachers and their pupils during the International Peace Day celebrations where large numbers were easily organised for the activities through different peace club members. More funds channelled to the formation and management of peace clubs could prove to be the most cost effective approach to building peace. Right picture: Peace clubs members engage in peace march.
Sakari Pax - Core Team Organising committee member
_________
Upcoming ARC Events
Friday 5th May 2006
The Price Of Peace: Bread or Bombs? Speakers: Explo Nani-Kofi, of African Liberation Support Campaign and Editor of 'Kilombo' Pan-African Community Journal, Vijay Mehta ARC Chair, and War On want, and others tbc. ARC Workshop as part of Kings College Social Forum, 5-7pm Room 342M Norfolk Building, Kings College, Strand WC2 R2LS. For more details contact Fidel at ngo@arcwebsite.org / 0208 502 7673 / 07899953977
Monday 19th June 2006
Establishing peace through teaching peace: The role for peace education in today's world. Joint ARC-WDC Public Meeting. Speakers Simon Byrne – co-ordinator of School Students Against the War, Jessy Winterbonn – Director of Network for Peace Building Initiatives (Uganda), Lucy Cope – co-coordinator of Mothers Against Guns, Benita Hide –Director of British Friends of Neve Shalom – Wahat al-Salam – Oasis of Peace, speaker from Peace Education Network tbc, Vijay Mehta – ARC/WDC Chair, Hse of Lords, Committee room 14b, 6-8pm. For more details contact Fidel at ngo@arcwebsite.org / 0208 502 7673 / 07899953977